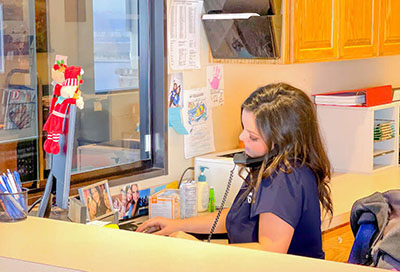 Appointment:
What information will the Front Office Specialist need to schedule an appointment?
When calling to schedule an appointment please have the following patient information ready:
Patient's full name
Date of birth
Current address and phone number
Current insurance information
Physician's name who you wish to schedule appointment with
Purpose of the appointment*
*It is important to let the scheduler know about all of the concerns you would like addressed during your appointment so we can schedule the appropriate amount of time to care for your needs.
What do I need to bring to my appointment?
Please bring all medications you are currently taking and your insurance card or copy of your card. If your insurance requires a co-pay/deductible, please be prepared to pay that at the time of your visit. In addition, it is helpful to write down a list of questions for your provider so that we can ensure that we answer all of your questions in the exam room.
What if I can't make my appointment and I need to reschedule?
Please call your physician's office as soon as you realize you will not be able to keep your appointment. We prefer all cancellations be made at least 24 hours prior to your scheduled appointment time. This will allow us to give another patient the opportunity to be seen.
Do you take walk-ins?
Calling our office at the first sign of illness helps to ensure that you receive an appointment time sooner rather than later. Normally, we are able to schedule same-day appointments for those requiring immediate non – emergency care. We will do everything possible to get you seen by a provider as soon as possible.
Insurance/Billing:
What insurance do you accept?
Bratton Family + Sports Medicine accepts most major health plans and networks. We make every effort to provide competitive prices and prompt pay discounts for our cash pay patients. Before enrolling in a new insurance plan, we recommend that you verify that your doctor is in-network to ensure that your office visits are covered by your insurance. Many insurances will list their covered providers on their website. On the day of your first appointment, a patient coordinator will confirm your coverage so it is important to know ahead of time if our providers are in-network with your insurance plan. Please bring a copy of your insurance card to your visit.
What forms of payments do you accept?
For your convenience, our practices accept cash, personal checks, money orders, and credit cards (Visa, MasterCard, Discover, and American Express). Unfortunately, we do not accept traveler's checks. We will charge your credit card only for the amount you authorize. Payment plans also may be arranged through our onsite billing coordinator.
I have a question about my bill. How do I contact the billing department?
For questions regarding your medical bill, please contact our Billing Department at (813) 528-4979, Monday – Friday from 8am to 5pm.
Why did I receive a bill from Privia Medical Group, when I had an appointment at Bratton Family + Sports Medicine?
Yes. We are Bratton Family + Sports Medicine however the business side is Privia Medical Group of North Texas- Texas Health Care.
What if I need paperwork filled out by my Physician?
Forms are dropped off at the front desk. Depending on the type of form, like FMLA, Disability and Life Insurance may take up to 5 days to be completed. Some paperwork might require an appointment with your physician for completion. We do have a $20 fee.
Prescriptions:
How do I request a refill?
Assuming you have refills remaining on your prescription, the best way to request a refill is through your pharmacy as they will send the request directly to your provider with the correct drug name, dosage, and quantity. Another option is to send a message to your provider through your patient portal account via "Ask a Provider". If you are out of refills an appointment will be required (see below).
Do I need an appointment to get a refill?
If you are requesting a new medication, an adjustment on a medication, or are out of refills you will need to schedule an appointment with your provider to ensure your safety. Certain medications require routine follow up appointments to check blood work and ensure continued efficacy; your provider will let you know when to schedule your next appointment and typically arranges refill quantities to match the desired follow-up schedule. If you are unsure when you are supposed to come back in please call our office for assistance. Please note that all controlled substances require a visit every three months. Any new prescriptions or refills can take up to 72-hours to complete. Please always be sure to call your pharmacy before your medication runs out.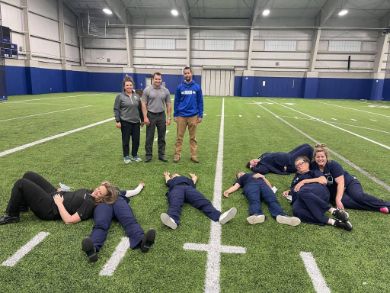 Virtual Visit/Telehealth:
What is a Virtual Visit?
Virtual video visits give you a convenient and safe way to get care without leaving your home. You connect with a provider from your smartphone, tablet or computer using a secure video link. At the time of your visit we will call the phone number you have listed and get you checked in as if you were in clinic. We then will have one of our MA's speak with you and get all of your medical history updated. After that you will receive a text message from the physician. Once you open the text message it will have a link in it. You will click on the link and it will connect you with your provider.
Can anybody schedule a virtual visit?
At this time we prefer the primary method of appointments be in office. We are saving the Virtual Visit/ Telehealth appointments for patients that are currently having COVID related symptoms.
What do I need to use for video visit?
phone. Examples include smartphones, tablets and desktop computers. Cellular data charges may apply if you are not using Wi-Fi for your connection, check with your carrier if you have questions about your data plan.
How long does a visit last?
Depending on the nature of your visit, it should be no different from an in-person visit.
Do I have to be in a specific location for a virtual visit?
You may be in any location where you can safely access your device and have optimal internet connectivity. We recommend finding a location where you can keep your personal health information private.
Are there special tools/equipment I will need for my virtual appointment?
Depending on the nature of your visit, a thermometer, blood pressure measurement or flashlight could be helpful.
Do you record any virtual visits?
Virtual visits are never recorded and are encrypted to ensure privacy. They are also HIPAA compliant so they protect your privacy.
Physicals:
Who should get a physical?
A routine physical can detect problems early on, while they are easily treatable. Putting off a physical can lead to serious complications because many illnesses and diseases have no obvious symptoms and become harder to treat over time. Regular check-ups help you and your provider stay on top of your health. Catching a problem early is the easiest way to help avoid complications and can keep problems from escalating into something more serious.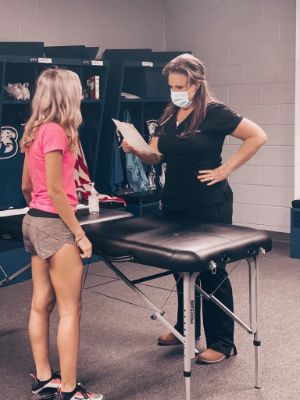 Will my insurance pay for a physical?
How often you should get a physical depends very much on your age, your health status, and of course, for many people, on their insurance coverage or ability to pay for one. A strictly medical standpoint may differ from your insurance coverage, which may set allowable time intervals between physicals. Most insurance companies will cover a physical every few years for young adults, and more often as people age. They'll also usually cover certain tests and screening as needed or recommended by physicians.
Medical Records:
How do I obtain my medical records?
To request your medical records, complete the Authorization for Release of Health Information (Patient Authorization for Release form), available for download.. You can also request the form at either of our locations. Once you've completed the Patient Authorization for Release form, there are four ways you can send it to us:
Mail the completed form to: Bratton Family + Sports Medicine- 1711 Martin Drive, Suite 100 Weatherford, Texas 76086
Fax the completed form to (817)570-0183
Call our office at (817)341-1300
Is there a cost to obtain medical records?
If you request records other than for continued care, an invoice will be issued for your payment. The invoice will be sent to the address listed on the Patient Authorization for Release form. Bratton Family + Sports Medicine will mail the records to you or records can be picked up at one of our locations. Payments can be made by Credit Card or Check. Please make all checks payable to Bratton Family and Sports Medicine. Fees for medical records are state regulated and HIPAA compliant for patient requests.
Who may request medical records?
You may request copies of your own medical records, the medical records of a minor child, or the medical records of someone for whom you are the legal guardian or hold a Durable Power of Attorney for Healthcare. Proof of legal guardianship or a Durable Power of Attorney for Healthcare must be provided. A spouse or child of a deceased patient can request the medical records of the deceased if he/she is the executor or administrator of the deceased patient's estate. Probate Court documents naming the requestor as the executor or administrator must be provided. Where there is no estate or an estate will not be probated, Probate Court documents releasing the estate from probate and naming the requestor as the personal representative must be provided.
General:
Where are you located?
Bratton Family + Sports Medicine has two locations. For maps, phone numbers, and office hours please click on "Contact Us" tab above.
How can I get help or questions answered after the office has closed?
Bratton Family + Sports Medicine have clinical staff and/or physicians' on-call 24 hours and 7 days a week. If at any time you need NON LIFE THREATENING assistance call our main number (817)341-1300 for further instructions. EMERGENCY OR LIFE THREATENING situations DO NOT WAIT! Call 911.
Do I need a referral from my Primary Care Physician to see a specialist?
As your primary care physician and care taker, we prefer you come and see your primary care physician before seeing a specialist. Your physician will determine whether you need to be seen by a specialist due to your medical condition. If you need a referral or authorization, your doctor will coordinate with our internal referral staff members, based on your health plan requirements.
If I call with a question for the nurse or doctor, when can I expect a call back?
Our physicians and nurses are with patients throughout the day, so it is usually not possible for them to immediately answer phone calls. We will return your call as soon as possible. To help us get back to you quickly leave us your full name, date of birth, reason for the call and current phone number.
Will I be able to get my blood drawn the same day?
Yes! We have a full service lab in both locations. We want to try and provide everything you will need in the office without having to send you to somewhere else.In our Weatherford location we also have x-ray to view images in real time.
I am having problems with the patient portal. Who can help me? We have a dedicated patient portal helpline you can contact at (817)740-8555. They can help with logging in or any portal needs.